Nahum Suwarsita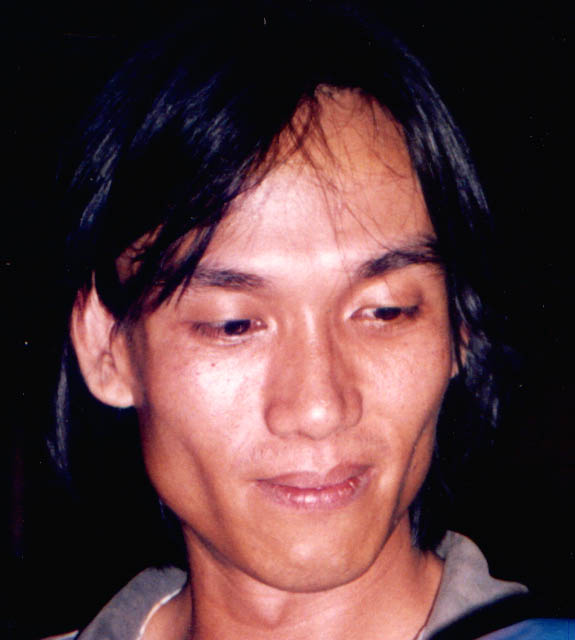 He the oldest of our group in years. Recently (at last…) married Rini and now they have a baby daughter. His paintings, that tended to be reflective, pessimistic sometimes, became brighter in subject and color and lately he started to paint 'paintings for children' an idea of Anneke, on which we will elaborate somewhere else on this site. In his older paintings, Nahum seems obsessed by the struggle between old and new values in his country, by the changes in society (and regime!!) and the loss of the past. Sometimes his subjects are more or less neutral, like « Flamboyan » (a flowering tree), Komposisi I, II, III (or « Untitled I,II,III) but mainly we find titles like: Desaku (my village), Eva 2001, Metropolis, that are a pleasure to the eye, but at the same time make the beholder think about what is going on. Going on in the painting, in the mind of the painter and in the society of which he is an integral part. Click here for some of his paintings.
Entis Sutisna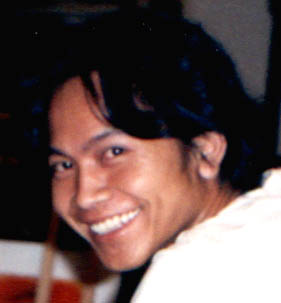 Entis Sutisna lives in his home village Pulo Gelapa, a small desa near Karawang, West Java, since he fled from Yogya during the final days of the Suharto regime. He had to leave because he walked in the wrong demonstration.
Entis is obsessed by the traditional dance and music of his native land. Many of his paintings depict dancers and traditional instruments. They are colorful, expressive and with an incredible strength.
Entis is deeply involved with the situation in his country and in his village. Soon after the economic crisis he came to us to ask if we could help him to have an exhibition for his village. The situation, especially in the rural areas was very bad at the time and there was no money for medicine and food. He wanted to sell all his paintings to provide assistance to his people.
Of course we complied and Entis sold for over US$ 8,000 for his fellow villagers. Which might not sound much, but it's a small village and this amount of money goes a long time in Indonesian circumstances.
Entis is not only a gifted painter, but he also concluded a study on traditional Javanese dance and he is a trained dancer. During our exhibitions he performed many times, together with his sister, who also is a dancer.
Click here for some of his paintings.
Surajiya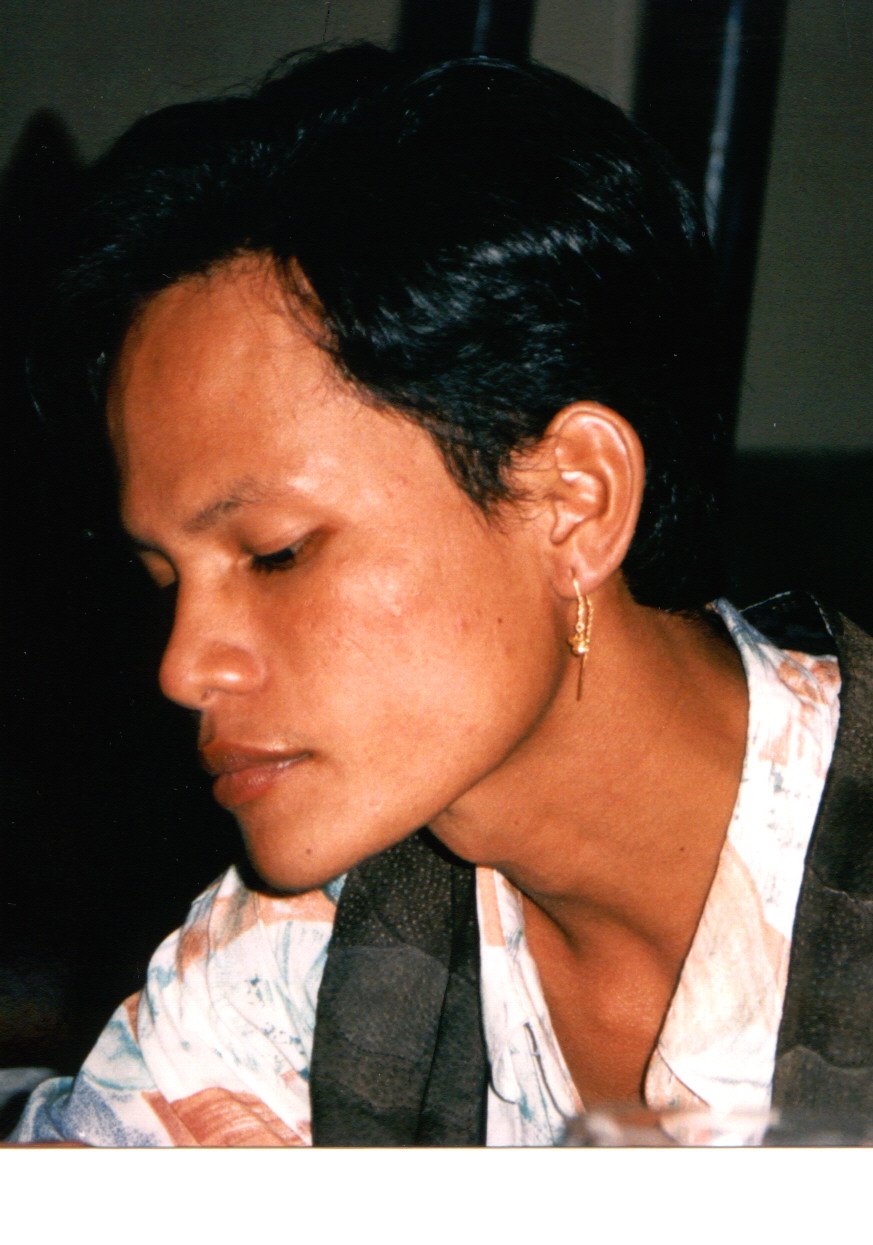 Surajiya is the youngest of our group. He was 'send' to us by Boudewijn Brandt, who suggested that we could be instrumental to help him finish his studies at ISI (Academy of fine arts), Yogyakarta. When he first visited us he brought some of his work and immediately 3 paintings were sold to guests we happened to have in our house at the time. Surajiya seems to think we paid for his studies and his lively hood, but in fact he paid everything himself. We created a current account, with all of his sales on the credit side. By now, he finished his studies with honors and he is a very promising young artist. He uses many different techniques and is obsessed by painting and drawing. He litterally draws on everything available, even bus tickets. Very sellable items are the sketches, in ink, he made of Yogyakartan street scenes during his studies.Most of his more serious work has 'woman' for a theme, sometimes unrecognizable, sometimes very much so.
Surajiya tells us he wants to be the best. There's a very good chance he will. One of our 'customers', when coming to Indonesia, used to ask for a dinner invitation -alone, so he could select in all leisure from the new paintings by Surajiya we had received from him during his absence from Indonesia.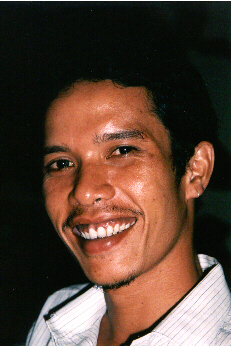 S. Teddy D. is the most famous of the group. He has exhibited not only in Indonesia, but also in Japan, Singapore, Australia, Denmark, Germany and Amsterdam. There's one problem with Teddy, however: he doesn't like to sell his paintings. After we got to know him better we were allowed to buy some of them, but mostly under the condition that we were never to sell them to others. They were only for us.
In the meanwhile, however, his works did spread all over the world and can be found in galleries and musea in Indonesia, Singapore, Australia, the Netherlands, Japan and Aachen, Germany, where Teddy worked recently for 6 months on the invitation of the « Ludwig Forum fuer Intern'l Kunst ». His work also has been sold with Christies.
Two subjects have haunted Teddy over the years: what goes on in mens' mind and the political situation in his country. As a matter of fact we were amazed in those days he was still a free man, because some of his work contained a very clear message to the former regime. Some of it is now on permanent display in ISI Yogyakarta: « The times they are achanging » (Bob Dylan).
Teddy doesn't only paint, he also created a considerable number of objects. They have been on display in many places and are included in many books, covering modern Indonesian Art, and rightly so.
His work is not always 'nice' to look at, but it certainly carries a message, although the message is not always (almost never would be a better indication) a pleasant one. In his work and in his life Teddy is not a very happy person. He is worried. Worried for people and for the world he and we live in. As far as Indonesia is concerned he certainly has a point.
Have a look at some of his work here. For more information on Teddy and his work, please also visit:
http://www.universes-in-universe.de/asia/idn/awas/08/english.htm
Beda Sudiman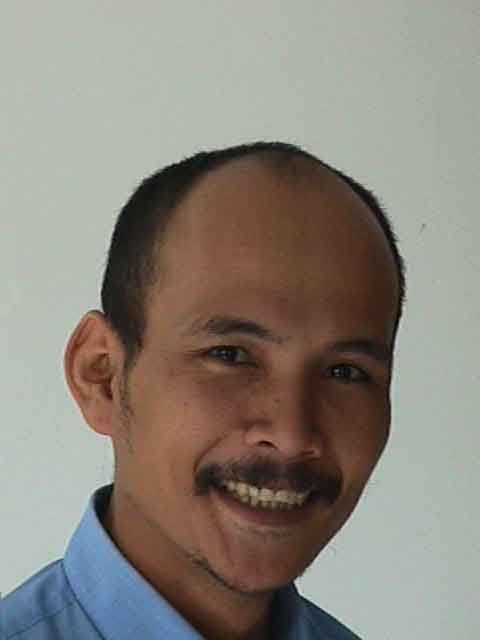 Beda Sudiman is the brother of Surajiya and he's not a painter. At least: he doesn't consider himself to be one. He considers himself to be a singer and the painting he does mainly to finance a carrier as a composer and singer. In the meanwhile, his work is very refreshing, from time to time clearly influenced by what his younger brother is doing at a given time. Sometimes he goes his own way.
The message in his paintings is love. Love between man and woman, love between mother and child, love in the family, love for nature and his environment, love for beauty. This makes his paintings a happy encounter every time. Beda lives in Karawang, West Java, together with his wife and son. No big surprise they form a happy family and a warm meeting point for painting friends.
On the suggestion of Anneke, Beda opened a small gallery in his house where he displays his work and that of his friends and is quite successful.
Herli Gaya

Herli Gaya lives with his wife and daughter in Yogya. He has a degree in law, but decided to find his happiness in a different carrier. Herli worries us sometimes. He is not very productive, shy, difficult to contact and hard to sell. He goes his own way, undisturbed by the occasional catastrophes that surround him. Herli is a sky-watcher. His paintings reflect the wonders of universe, which makes me wonder if his last name is not one he gave to himself. One look at his paintings and you will understand.
Herli paints just for the pleasure of creating visible immages of his thoughts and admiration for Gods creation. He is not in the least influenced by the work of others, just goes his own way. Perhaps that's the reason we have difficulties selling for him: his art is not about people and situations, but about the universe. It looks like people are a neglectible quantity for Herly and it shows in his paintings.
KADAFI GANDI KUSUMA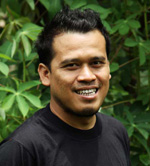 Born : Jember, 12 July 1974
1992

Indonesian Institute of Arts (ISI), Yogyakarta, Indonesia
Mail : kadafikusuma@gmail.com
2009

Finalist of Tujuh Bintang Art Award Yogyakarta
2003
Finalist of The Beppu Contemporary Art Exhibition, Japan
Finalist of Indofood Art Award, Jakarta
2002
Finalist of PEKSIMINAS, Yogyakarta
2000
Finalist of Philip Morris, Jakarta
| | |
| --- | --- |
| 2010 | "Membaca Frida Kahlo #2", Nadi Gallery, Jakarta |
| | |
Selected Group Exhibitions: 
2010  « Soccer Fever », Galeri Canna, Jakarta
          « Rehorny'92 », Jogja Nasional Museum, Yogyakarta
           « Masih Ada Gusdur », Galeri Langgeng, Magelang
2009

"Mengenang Romo Mangun", Karta Pustaka, Yogyakarta
« Jeunes Peintres Indonesiens » La Galerie Zart 03, Prancis
"JAF II", Taman Budaya Yogyakarta, Yogyakarta
Kompetisi Tujuh Bintang, Yogyakarta
« Meeting People is not Easy »,Roommate Gallery, Yogyakarta
2008

« Tekan*010# », Kel.Sepi,Taman Budaya Yogyakarta, Yogyakarta

2006

« Sumpah Perupa »,Melia Purosani Hotel, Yogyakarta
"Remember", SEPI group, Greens Café Western, Australia
2005

Biennale Jogja VIII, Taman Budaya Yogyakarta, Yogyakarta
"Sabtu Siang", Hyatt Hotel, Yogyakarta

2004

Workshop with Autodidact Painter (« saving Budha »), One Gallery, Bali
2003

"Beppu Contemporary Art Exhibition", Japan
"Pesona Kartini dalam Pesona Warna", Nalendra Building, Ungaran
Indofood Art Award, Jakarta
2002

"SEPI ber-SERI", Akseri Gallery, Yogyakarta
PEKSIMINAS, Benteng Vredeburg, Yogyakarta
Seven, Art Center, Korea
SEPI, Sejahtera Apartment, Yogyakarta
"Rekreasi", Widayat Museum, Mungkid, Magelang
"Super Lutis", Bentara Budaya Yogyakarta, Yogyakarta

2001

"Indifferent Story", Gelaran Budaya, Yogyakarta
"Hutan Bambu dan Sekotak Kartu", Bentara Budaya Yogyakarta, Yogyakarta
"Gejolak Ekspresi", Melia Purosani Hotel, Yogyakarta
"SEPI Dua Meteran", Benteng Vredeburg, Yogyakarta
"FKY XIII", Benteng Vredeburg, Yogyakarta
"Seven Exhibition", Galeri Air, Jakarta
"Seven Exhibition", British Council, Jakarta
"Seven Exhibition", Cemara Enam Gallery, Jakarta
Nalendra Building, Semarang
"Sepiring Indonesia", Gelaran Budaya, Yogyakarta
2000
"Sumpah Perupa", Melia Purosani Hotel, Yogyakarta
Philip Morris Exhibition, the National Gallery of Indonesia, Jakarta
"SEPI PELOEIT 2000", Benteng Vredeburg, Yogyakarta
"Sumpah Perupa", Griya KR, Yogyakarta
Long Drawing With SEPI Group, Yogyakarta
1999
"Sumpah Perupa", Melia Purosani Hotel, Yogyakarta
"Driming Drum" Performance Art, Biennale Jogja V Opening, Yogyakarta
1997
Gala Dinner Exhibition, Yogya Café, Yogyakarta
1996
FKY VIII, Benteng Vredeburg, Yogyakarta
1995
"Legenda 1992", Purna Budaya, Yogyakarta
1994
"Legenda 1992", Indonesian Art Institute, Yogyakarta
1993
Islamic Exhibition, Islamic University of Indonesia, Yogyakarta
1992
Kartini's Day Exhibition, Jember
2001
Art Cologne, Asian Fine Arts Pruess and Ochs Gallery, Berlin, Germany